Tree Card. I tried out a simple, geometric Christmas tree card made from solid-color papers. To make your own, get my template file right here. You could use just a white sheet of cardstock to make this. Or, if you want contrasting colors, do what I did: Print the template at 100% on white cardstock. (This makes a 4.25″ x 5.5″ folded card to fit a standard A-2 announcement envelope.) Then glue a colored sheet of light-weight paper to the back of the cardstock. I used my fancy Xyron machine and some cheap Astrobright paper from Office Max. You could also use spray adhesive to glue the colored paper to the white cardstock. Or better yet, find cardstock that's already two colors.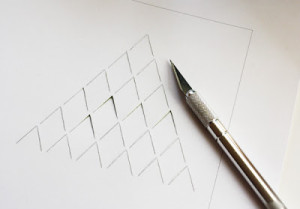 Next, cut along the printed lines with a sharp craft knife, slicing all the way through both sheets of paper. Try to keep to the outside of the triangles so any printed lines will be hidden when the flaps are folded down. Then cut out the card. Fold the pointed flaps down to form the tree and fold the card in half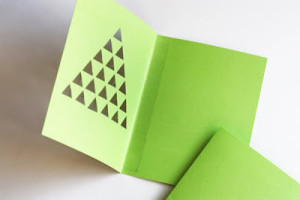 If you write inside the card, your message will show through the holes in the front. So if you like, add a second sheet of colored paper to write your message inside. Cut matching paper to 8.5″ x 5.5″, fold it in half, and use a strip of double stick tape to secure it to the inside back panel of the card.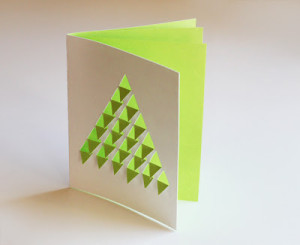 If the triangles won't stay flat enough for your liking, lay a heavy book on the card for a little while to press the flaps open. I like how the cutouts create shadows and a 3D look.
You can read all our posts here 
Check out Bearly Christmas for cool articles