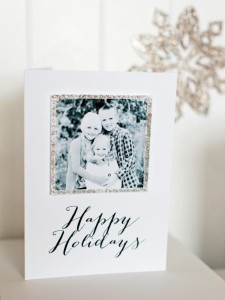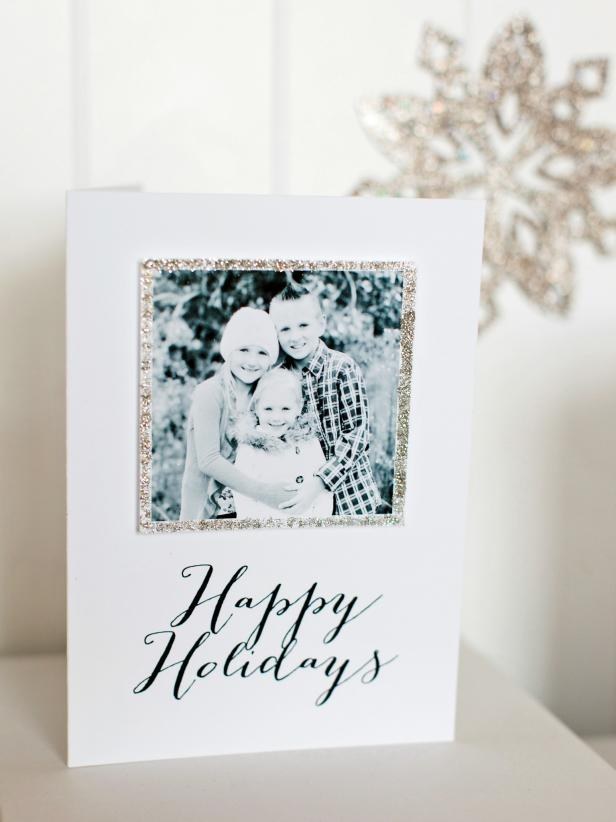 Classy Photo Card
Supplies:
3″ x 3″ photos
white card stock
scissors or paper cutter
ruler/bone folder (optional)
glitter
glitter glue
small paint brush
foam dots
Directions:
Download and print card template onto white card stock. Size and print 3″ x 3″ photos or order photos in this size from a photo lab. If possible, create a 1/8″ white border around image. Cut out card design using scissors or paper cutter.
Use a ruler and bone folder to create a folding crease at 5″ (middle of card). This creates a clean crease and makes it easier to fold correctly.
Use a small paintbrush to apply glitter glue to one edge of photo. Generously sprinkle glitter onto the glue, then tap off excess. Continue glittering each edge, one by one, until all edges are complete. Set photo aside and allow glue to dry.
For dimension, add foam dots to the back of the glittered photo (Image 1) then attach it right above the greeting to the printed card template (Image 2). Tip: Follow the basic steps and instructions above to attach a 2″ x 2″ photo to this printable gift tag (Image 3).
Follow along on our blog here
Read about Christmas Search here