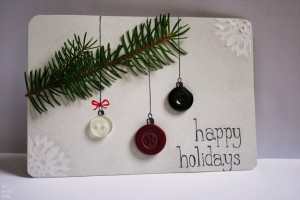 Button Ornament Card
Supplies:
Card stock
Wrapping paper
Scissors
Glue
(everything else is absolutely optional)
Directions:
First draw freehand ribbons and hooks for your baubles,
then glue on the baubles and the pine sprig.
Done. I decided to add two tiny details: a drawn red bow and part of a paper snowflake which I made from tracing paper.
Check out our blog here
Read about Christmas Boss here